Introducing Hostman XP, the world's first and only client virtual hosting software which allows you to control and manage every aspect of running your website from the ease of your Windows desktop PC. Through the power of this software you can create e-mail accounts, 404 error pages, sub-domains, mailing lists, and much more. You can also create new support tickets, view network status, check your web statistics, access webmail, upload/download files and perform dozens of other tasks all from the convenience of your Windows deskop. Download a copy today and eXperience next generation hosting!


Web Hosting, Made Simple
To simplify your service, Hostman adds some new tools to your computer. When the application is installed, you will see a new icon on your desktop called 'Hostman XP' and a new addition to your tray bar called 'HP Desktop Tray'. You can take advantage of new features by right-clicking the icon to launch common tasks.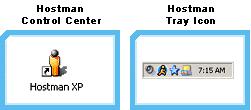 Access Common Tasks Quickly
Hostman allows you to easily perform common tasks like 'checking for email' by providing you with full Windows integration through the tray icon on your windows desktop. A simple right-click will bring up a menu of common tasks. Within the popup menu you can:






Launch Control Center

Submit a New Support Ticket

Talk to a Live Customer Representative

Access your Online Control Panel

Access Webmail

Access your Website Statistics

Upload/Download/View Files

Telnet into your account





Do anything, from your desktop!
We've taken hosting one step further by including Control Center, a module within Hostman that acts as a small browser which allows you to access 100+ addition hosting options. Now you never have to use your web browser again!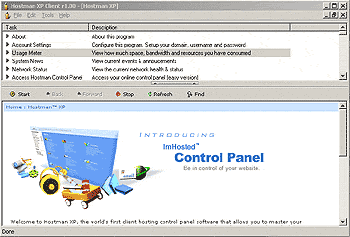 Exclusive to ImHosted.com!