(866) 923-4588 | Live Chat
Affordable Web Hosting & Website Hosting Services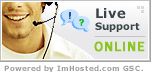 -->
| | |
| --- | --- |
| | |
Advantages:


Storing your data regularly AND offsite prevents you from losing them

You can save your files from anywhere and anytime

You can access your files from the web, secure terminal or FTP

The security of your data and the security of your business increases tremendously

YOU SAVE TIME AND MONEY compared to traditional backup techniques


Our critical data protection solutions are designed for home users, corporate end-users, remote offices, and mobile users who require secure and encrypted off-site storage of important information. Regardless of how simple or demanding your storage needs are, we have the products and solutions to meet your needs. From a single web site to a full line of servers, we can back up your critical data for as little as $29.95 per month.

Files stored online can be accessed from any computer connected to the Internet, at any time. Access the same word processing documents, MP3s, presentations from home, the office, or on the go! ImHosted™ ODS solutions will protect you from theft, loss, or destruction of your valuable data.

All plans include:


Storage on our ultra fast hard drives

Access data via Web/FTP or Secure Terminal

24/7, friendly technical support

Automated backup via cronjobs

Web-Based File Manager

Compress & Download your website with 1-click!

14-day money back guarantee

Backup your database, documents & files!




Online Data Storage/Backup Plans


Backup Plan 1
Backup Plan 2
Setup Fee
FREE
FREE
Monthly Fee
$29.95
49.95
Upload/Download
Unlimited
Unlimited
Web/FTP/Terminal Access
yes
yes
Storage Space
(With Storage Protection)
500 MB
1,500 MB
FAQ:

Why would I want to store my files online?
It's a hassle to carry around data on removable storage devices such as floppy disks and CD-ROMs, and those devices are notoriously unreliable. In addition, you don't always know in advance what files you'll need on hand. Storing your files on our server removes those obstacles to productivity. The online storage space is also a reliable and cost-effective solution for backups, as our network is designed to protect your data from hardware failures and vandelous attacks.

But isn't it easier to use a floppy disk, or larger storage device like a Zip drive or CD-ROM?
Using our Web-based File Manager is just as easy as using a floppy disk. And if you want to retrieve those files on another machine, all you need is an Internet connection and a Web browser.

Do I need a fast Internet connection to use the online storage server?
We recommend that you use a high-speed connection such as a cable or DSL line if possible, but the storage server will work with modem connections as well.

Is it safe to store my personal or financial files online?
We use a firewall to keep intruders away from your data, protecting it much more completely than most end-user operating systems do by default.

Do you have any guarantees?
If you are not completely satisfied with our services within the first 30 days of use, we will refund you in full. In addition, we guarantee 99.5% uptime.


| | | |
| --- | --- | --- |
| Addons | Cost | Amount |
| Extra Disk Space | $20 /mo | 1000 MB |