(866) 923-4588 | Live Chat
Affordable Web Hosting & Website Hosting Services
-->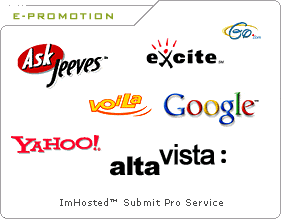 85% of people online use search engines to find what they are looking for. Are they finding your listing?
Submit Pro is an affordable search engine submission tool which will submit your website automatically to the leading search engines & directories with a click of a button. Our simple, step-by-step, setup takes only minutes to complete, and gives your site the best chance at a great results ranking.
Benefits:
Save hours of work and online research
Gain exposure to the biggest search engines on the Web!

Submit Pro is priced at $59.95 USD per domain. All ImHosted.com hosting customers are entitled to use this service free of charge!

To order this service click here.